maC Masterprojects 2020 / 2021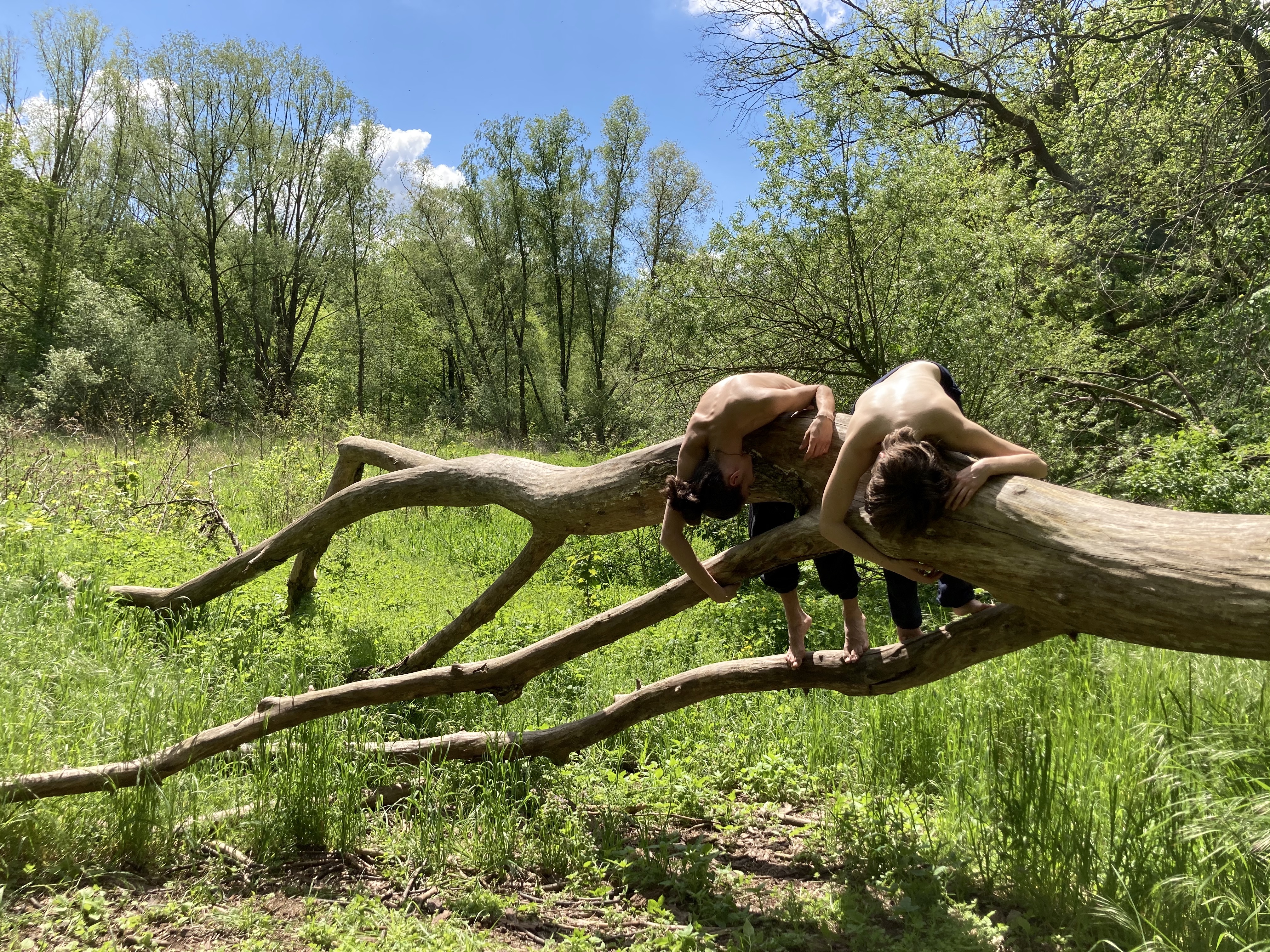 Due to the Coroana-Pandemic lockdown, the digital semesters in 2020 and 2021 have also stirred up plans for the maChoreography final projects. The students adapted and still finished their final projects under these circumstances.
WEAVING In by Svea Schneider-Sierra, is a sensorischal-performative walk in the forest and Diamond - The Crossing Point of Money and Spirituality, a dance video by Akemi Nagao are projects done in 2021. The project "Unsere INSEL" by David Lima was initially planned as a joint dance project with residents* of the Mierendorff-Island in Berlin-Charlottenburg. In the course of the corona restrictions in spring 2020 the project was moved to the net - and the image of the island got a completely different meaning. Jadi Carboni's final master project film "Dancing my Hero - Rebel of Peace" contained six solos about the transformational renewal of the body. maC Alumni Jenni Ramsperger presented "Blind Clouds", a work about the dynamics of movement, choreographing lines, surfaces and states of inner landscapes in the two-dimensional and within painting.
WEAVING IN
Svea Schneider-Sierra
Zwischen enger Verbundenheit und Distanz verweben sich die Performenden mit der Sinneswelt der Pflanzen, Bäume und Wald-Organismen. Körper nisten sich in den Raum ein, lagern sich ab und eröffnen immer wieder aufs Neue unerwartete Perspektiven. Welche Wahrnehmungsräume öffnet der stadtnahe Wald? Wie schmeckt er? Wie riecht er? Wie klingt er?
Diamond - The Crossing Point of Money and Spirituality
Nagao Akemi
Money is a tool for exchanging, a power, a belief, a game, a drug and a symbol of capitalism.
Spirituality is you, your existence.
I don't believe in the capitalistic way of working, living, acting or loving. I mean something like rushing, high speed, no breaks, non stop, always just more and more.
I need a break. I need rest. I need time to think and to be confused. I need to stop. I need to slow down. I need empty space and time. I need to think with my body. I need to dance.
Dancing my Hero
Jadi Carboni
The Heroine dances, my body speaks. My hero, my body, who keeps me alive, unique, and yet part of a whole life cycle. It is an offer to rediscover the inner strength and interconnection of our lives, even when deprived of the possibility of real physical contact. A journey through six interwoven solos, inspired by the sense of gratitude towards life, towards one's body, understood as a continuum of mind-body-spirit, in an infinite cycle of transformation and renewal.
2019 – ABSCHLUSSARBEITEN MA CHOREOGRAPHIE
Sieben Studierende des MA Choreographie zeigten in den Uferstudios und auf den Bühnen der Hochschule für Schauspielkunst Ernst Busch ihre Abschlussarbeiten. Die internationalen Studierenden aus dem Iran, Finnland, der Schweiz, Niederlande, Deutschland und den USA brachten ihre je eigene künstlerische Handschrift und Herangehensweise mit: "Come rain, come shine" von Kaisa Nieminen entfaltet eine von feministischer Poesie, Rap und der Hexe Louhi aus der finnischen Mythologie inspirierte emotionale Landschaft. In seinem Tanzstück "Tekiyeh" konfrontiert Ashkan Afsharian Bewegungsmaterial aus einem religiösen Ritual, der iranischen Ashura-Zeremonie, mit west-europäisch geprägten Körpern. Dina Sennhauser erforscht in ihrer Choreographie "PerForma" die unterschiedlichen Konsequenzen, die das Zusammenspiel von Individuen in einem performativen Rahmen haben kann. "Oscillate" von Maria Rutanen ist eine choreographische Untersuchung der Bewegungen der Kontraktion und Expansion im Individuum, in den Massen und in der Umwelt, zwischen Fülle und Leere. "Remember Why" von Jasminka Stenz ist eine Tanzperformance zwischen Xenophilie und Xenophobie, die die Zuschauer einlädt, in einen ungewissen Raum zu treten. Niels Weijer choreographiert in "fluid horizons" atmosphärische Interaktionen von farbigen Körpern in imaginären Klang-Welten. Zum Abschluss zeigt Katrina E. Bastian mit "LeibBeiMir/BodyByMe" ein Stück über das Faken und News, Fake Körper, Fake Gefühle und schafft Situationen, die das Authentische der Aufführung offenbaren.
SPIELPLAN
14. + 15.6. 2019 | 19 h
Kaisa Nieminen: Come rain, come shine | Campus Uferstudios, Studio 14
18. + 19.6. 2019 | 20 h
Ashkan Afsharian: Tekiyeh | Campus Zinnowitzer Str., Bühne UNTEN
21. + 22.6.2019 | 19 h
Dina Sennhauser: PerForma | Campus Uferstudios, Studio 12
21. + 22.6. 2019 | 20.30 h
Maria Rutanen: Oscillate | Campus Uferstudios, Studio 14
27. + 28.6. 2019| 19 h
Jasminka Stenz: REMEMBER WHY | Campus Zinnowitzer Str., Bühne OBEN
28. + 29.6. 2019 | 19 h
Niels Weijer: fluid horizons | Campus Uferstudios, Studio 14
4. + 5.7. 2019 | 20 h
Katrina E. Bastian: LeibBeiMir| |BodyByMe | bat Studiotheater der HfS Ernst Busch