Litó Walkey
AS IF IT'S JUST ABOUT TO HAPPEN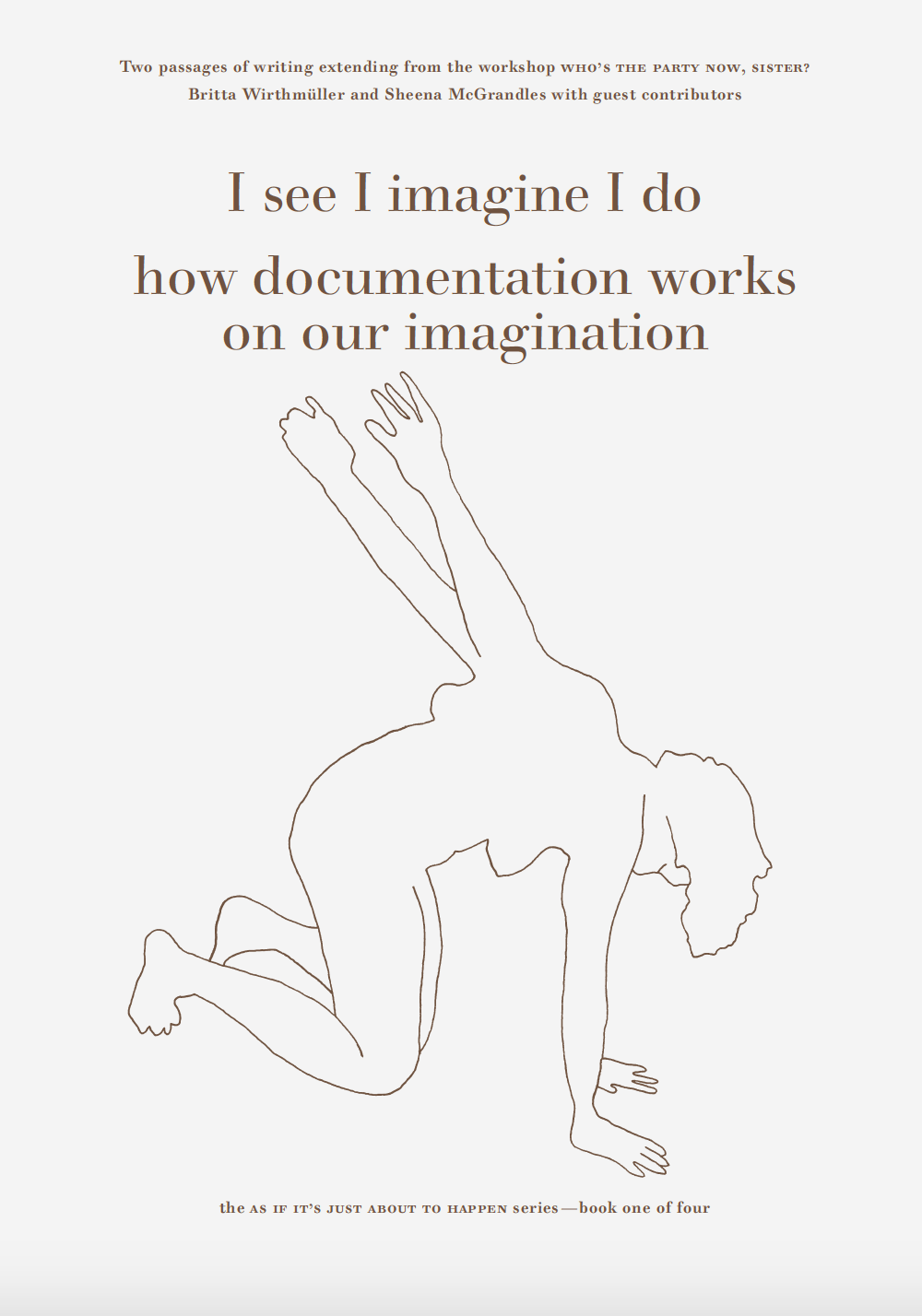 The as if it's just about to happen book series invites a reengagement with four workshops, facilitated within HZT Berlin's BA Dance, Context, Choreography course between 2014–2016. Four of HZT's teaching staff initiated a collaborative writing project with colleagues and HZT students and alumni to access what persists through the entanglement of their artistic and pedagogic practices. They returned to the pedagogic events with the question "What was and is it doing and what can we create with it now?"
Initial experiences, notes and memories from the workshops were approached with a strategy of interruption. A specific set of parameters informed a structure of excerpts, footnotes, invitations and responses that produced a new order of connections based on selectivity, discontinuity and proliferation.
As a reader you are encouraged to be involved with the passages of writings and drawings within these four books — to follow, skip across, take apart, expand, reassemble, rewrite and respond further. You are invited to experience what is still creating itself, as if it's just about to happen.
IMPRINT
Project editor: Litó Walkey. Copy editor: Karen Christopher. Graphic design Milchhof Atelier: Andreas Töpfer, Carsten Stabenow, Printing Steinmeier, Deiningen. Publisher: HZT Berlin and UdK Berlin. 2017.
Central authors are teaching staff
Florian Feigl, Sheena Mcgrandles, Litó Walkey, Britta Wirthmüller. All drawings are by Tabea Xenia Magyar.
HZT student & alumni guest writers
Johanna Ackva, Asaf Aharonson, Cécile Bally, Sandhya Daemgen, Katerina Delakoura, Xenia Taniko Dwertmann, Ewa Dziarnowska, Rosemarie Eberl, Ivan Ekemark, Forough Fami, Josephine Findeisen, Judith Förster, Juan Felipe Amaya Gonzalez, Renen Itzhaki, Camille Jemelen, Suvi Kemppainen, Julek Kreutzer, Katrine Staub Larsen, Anna Lena Lehr, Myriam Lucas, Liina Mariudottir, Magdalena Meindl, Johanne Merke, Josefine Mühle, Lyllie Rouvière, Zhenya Salinschi, Sunayana Shetty, Grėtė Šmitaitė, Julia Keren Turbahn, Aabshaar Wakhloo, Alistair Watts and Simone Gisela Weber.
Further guest writers
Katerina Bakatsaki, Derrais (d.a.) Carter, Jeanine Durning, Arnold Dreyblatt, Essi Kausalainen, Johannes Lothar Schröder, Joy Mariama Smith, Rhys Martin, Helen Mirra, Anne Schuh and William Wheeler.

Project editor Litó Walkey, copy editor Karen Christopher, publisher HZT, UdK Berlin, graphic design Milchhof Atelier: Andreas Töpfer, Carsten Stabenow, printing Steinmeier, Deiningen
Drawings by Tabea Xenia Magyar