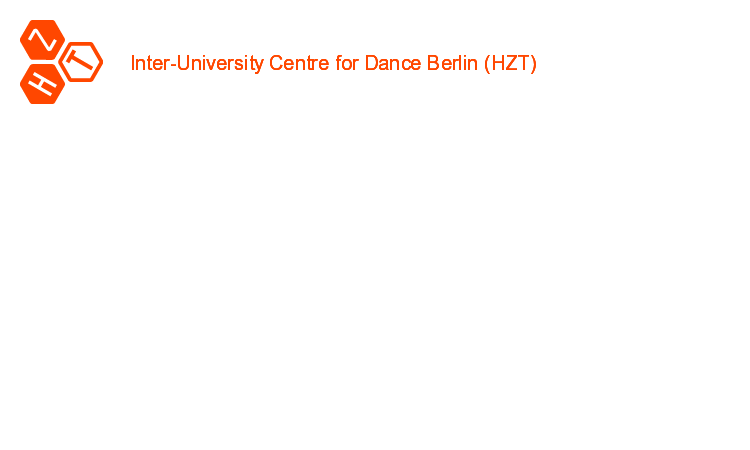 HZT Research Week: Shielding (Online Conference)
Dear friends of the HZT Berlin,
we welcome you to the new year 2022!
We start the year with the pilot edition of the HZT Research Week from January 10th -15th, focusing on the idea of Shielding: practices and conceptual approaches in which bodies, intentionally or involuntarily, become shields. Bodies take on an ambivalent and controversial status in the pro-cess: on the one hand, they serve as protection or as a buffer against others – other people or symbolic sites – and express resistance. On the other, they become weapons as well as shields when they intervene, on the ground as well as politically, in wars and conflict but also activism. Situated in a broader intellectual context, the focus on shielding connects to various debates in which corporeality and embodiment in current socio-political contexts are reevaluated. It also follows the question of how body-based research from the performative arts can enter into dialogue with other fields of knowledge and application to help understand the aesthetic, sociopolitical, ethical and legal dimension of the body.
HZT's Shielding is made up of various public (online conference January 14th & 15th) and non-public programs and combines a variety of modes of encounter, including practical training sessions, workshops, lectures and other formats, to address the question of the body as shield on multiple levels: From an aesthetic and dramaturgical perspective: how is shielding trained, rehearsed, embodied and performed? How does it address and create both audience and witness? From a necropolitical perspective: How do practices and concepts of shielding contribute to producing, maintaining or critically reflecting power structures? How are different hierarchies of embodiment, unequally distributed privileges, and different concepts of accountability and responsibility ex-pressed? On an ethical level: how are the value and worthiness of bodies negotiated in shielding? How can we do justice to our own position between fascination, voyeurism and disturbance?
We cordially invite you to the online conference "Shielding" on 14th & 15th January from 3 pm and look forward to a lively exchange.
With best wishes for a happy and healthy year!
The HZT Team
Curated and organized by Sandra Noeth and Janez Janša, with the support of Bella Ruhl, Anna Mohrdiek and the team of the HZT.
Two lectures & a dialogue 1

Isabell Lorey & Nicola Perugini
Isabell Lorey
Immunised Bodies and Logistifications Just in Time. Transformations through the Pandemic
Neoliberal prevention reached its limits with the Corona pandemic – no one was prepared. Isabell Lorey shows that lack of prevention is not an oversight: In the Covid 19 pandemic, behaviour and desires for a new capitalist phase are just being rehearsed in an enormous condensation and speed, which essentially depends on each*individual learning to deal with extreme unplannability and increasing uncertainty. Logistics and digitalization continue to drive the normalisation of extremely precarious just-in-time jobs. And in the home office, the entire person, including the social environment, is immunised and capitalised without at least redistributing care work. The immunising limitation of contacts corresponds with renationalizations not only in Europe. What fundamental social and economic transformations, based on old domination relations of immunisation, are taking place with the help of various desires for immunised bodies?

Nicola Perugini
Human Shields as Human Screens
From phalanx-fighting, through the use of multiple distance weapons, to the development of airpower and drone warfare in the last century, the history of armed conflicts is one of increasing distance from which people are killed, but also one of increasing weaponization of the human body. Starting from World War I, innocent civilians who were used as human shields to protect military targets in violation of the laws of war were often defined as 'human screens.' The notion of human screen, I argue, is not merely a synonym for human shield. In fact, the human screen is not only a human weapon. As I show in this archaeological exploration, the process of transformation of the human body into a screen translates also into the development of a new media technology that both allows to modulate the use of lethal force and shape the perception and political meaning of violence in the battlefield.
Two lectures & a dialogue 2

Banu Bargu & Sandra Noeth
Banu Bargu
Human Shielding as Embodied Critique
My presentation will revisit voluntary human shielding as an embodied form of resistance, drawing on examples from the Middle East and North America. I will discuss how shielding as the public performance of self-endangerment for the protection of others can be considered a subset of the political technique of disembodiment. Considering human shielding alongside other forms of self-harm and self-destruction, which I also gather under the umbrella of political disembodiment, I will centre my reflections on the role of the body as the vehicle of critique.

Sandra Noeth
Disposable Bodies and Performative Strategies of Protection: On the Controversial Status
of the Body in Shielding
Holding your breath while walking down the street, evaluating the risk posed by a passing body; performing subtle gestures of touch on your own body while experiencing discrimination or neglect; rehearsing how to appear at a border, where the individual body is always already part of real or imagined collectives. The talk takes, as its starting point, different experiences of shielding ranging from the small-scale to the everyday and the structural. It raises the question: how can body-based aesthetic and performative strategies and practises, on a micro-political level, produce knowledge about the unequal recognition of bodies and their respective protective needs? In the context of the HZT research week, I will focus on the ambivalences that emerge when a body becomes a shield: when protecting and valuing some bodies exposes others in political, legal or ethical states of vulnerability. The presentation provides insight into an ongoing research project on the idea of bodily integrity which I am developing in dialogue with artists, activists and theorists from different fields.
Two lectures & a dialogue 3

Frédéric Pouillaude & Žiga Divjak
Frédéric Pouillaude
On Aesthetic Shielding: Walls, Windows and Screens
A wall is an anchored shield.
A window is a transparent wall: a transparent anchored shield.
A screen is a mobile window: a mobile transparent anchored shield.
Through this accumulation of fuzzy equations, I will explore the relations between aesthetic experience and protection devices, and so, the structural need of art for safe places. Then, considering the global inequality in which we live, I will ask why art is over-shielded here and over-exposed there, assuming that in these two excesses art is not far from dying.

Žiga Divjak
The Body and Systemic Violence
In my documentary theatre projects I try to look at political and social issues through the optic of their manifestation in our everyday lives. The emphasis is the spectator's political co-responsibility and the fostering of solidarity with and among the oppressed, precarious and often atomised citizens of this world. In this context bodies play different roles, both concrete and metaphorical: from violence, exhaustion, closeness, distance to performing and acting. I will use specific examples from my recent performances to show concrete consequences of the political problems we have dealt with while attempting to embody them and bring them on stage. I will be addressing the problem of staging the Other while questioning the boundaries of our responsibility.
Two lectures & a dialogue 4

Rana Issa & Sophie Utikal
Rana Issa
Chronicles of a Mothalovin' Penslayer
Ummiyat is an autobiographical history that constructs feminist legacies of motherhood and language through modes of exposure, confession and exhibitionism. In my family, concealing trauma has been practised across the generations as a way to recuperate the dignity of individuals in my family in the wake of extremely traumatic political and personal events. By labouring to put on display, un-conceal and reveal the sites of trauma, this text attempts to come to terms with how we speak about the unspeakable and why it matters.

Sophie Utikal
Soft Skin Shielding
In her presentation, the artist will elaborate on aspects of her practice that connect to shielding, the skin as a shield, and the passage of traumas across generations as it relates to her oeuvre. Appealing to the decolonized gaze and non-rational forms of knowledge, she reproduces her own body through a series of large-scale textile self-portraits. In these works, Utikal reveals the tension between the epigenetic trauma of cultural and identity eradication and the individual process of healing through the surface of the skin. The depicted body, her body, acts to protect, and in doing so also bears the archive of traumatic experiences of displacement, genocide, and racialization handed down across generations. The works are depicted in deep relation with ecological devastation, as in Holding on (2021), or with non-human kinships, as in Healing Parts (2020), breaking and expanding dichotomous Western definitions of identity.