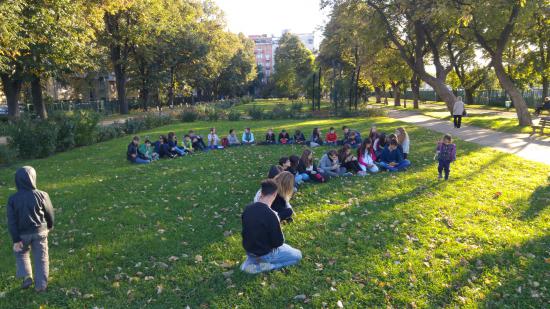 CATCHING DANCE - Adham Hafez
In this lecture, choreographer and scholar Adham Hafez speaks on forensics, criminology and law as methods for choreography. Hafez shares with the audience the strategies used for the creation of his latest performance TO CATCH A TERRORIST, created in partnership with the movement and performance platform HaRaKa and guests in 2018. Through a series of traces, Hafez invites his dancers to re-choreograph a typical Arab dance, within an environment of data analysis and hyper-othering, only to reveal the markedness of non-white bodies, and the impossibility of catching what we cannot see. By addressing law as a constitutive practice, this lecture allows us to access the performative potential of courts, the choreographic imperative of law, and the aesthetics of racism in dance. (To Catch A Terrorist was created in collaboration with Irene Hultman, Adam Kucharski and Manar Abdelmaaboud, and premiered at La Mama Theatre (NYC) in 2018.)
Half Lecture-Performance - Manuel Pelmus
Choreographer and artist Manuel Pelmus presents half of his lecture performance Movements at an Exhibition which deals with politics of visibility and artistic decisions that are informed by specific political circumstances. He chooses to do this by literally responding to the lecture series' invitation to address the idea of "decision-making." Pelmus will perform material for a future lecture-performance, followed by a conversation in which the decisions and strategies involved in making the past lecture Movements at an Exhibition will be made visible as the source for the future lecture.